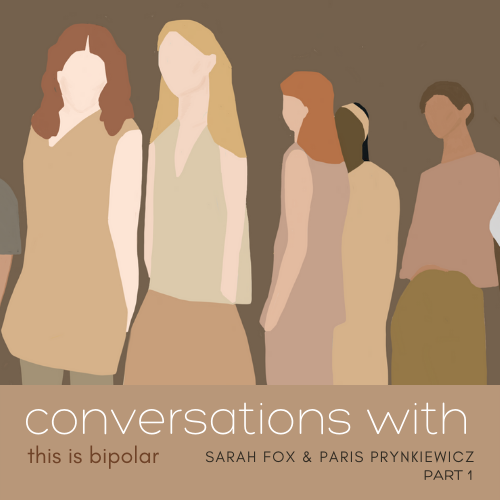 Introducing part 1 'Conversations With' episode with mental health advocates Paris Prynkiewicz and Sarah Fox. Paris and Sarah openly and honestly share about their experiences living with bipolar I disorder- from symptoms, getting help, their hospitalizations, medication, stigma and more. These two stories of perseverance offer hope and encouragement to others walking a similar path. We feel honoured that they trusted us with their truth. We know you are going to love these #bipolarwarriors as much as we do.
This is bipolar...
Paris Prynkiewicz is podcast host of "Master Your Mental," professional speaker for NAMI (National Alliance on Mental Illness) and best-selling author of her memoir, "Crooked Illness: Lessons From Inside & Outside Hospital Walls." Paris received her BA in Psychology from the University of Arizona and her MBA in Healthcare Administration from Western Governors University. Paris has made it her mission to use her story to teach others how to SHATTER the mental health stigma and OVERCOME their obstacles in order to begin to CRAFT the life they have always wanted to live! Paris can be reached best via Instagram @masteryourmental.
Sarah Fox is a Christian woman with a desire to encourage others to stay pure and hopeful in a world that says otherwise. She's a graduate of The King's College with a B.A. in Politics, Philosophy, and Economics. She also works as an Assistant Community Manager at Rose Community Management. She loves journaling, performing spoken word, and reading comic books (Deadpool, T'Challa, and Batman are her boys). She is the host of a mental health podcast called Rough Edges, where she shares about her faith and mental health journey. For more information and updates, you can follow her podcast on Instagram (@rough.edges.podcast). She also has a blog where she writes encouraging messages about womanhood, relationships, and justice.
#thisisbipolar #thisisbipolarpodcast #bipolarpodcast #bipolar #mentalhealthpodcast