Unfiltered & authentic - a real-life glimpse of bipolar disorder. Join mental health advocate, Shaley Hoogendoorn as she passionately share her bipolar journey and holds space for the stories others. It is her greatest hope that these raw and real stories will give insight, shatter stigma, and offer hope. This is bipolar...
Episodes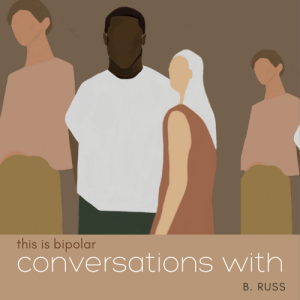 Monday Mar 20, 2023
Monday Mar 20, 2023
In this episode of 'Conversations With', Mental Health Advocate Shaley Hoogendoorn talks with fellow advocate, B. Russ. Brandon shares openly about his experiences living with bipolar disorder- from symptoms, addiction and medication to the how becoming a mental health content creator has been a huge part of his healing journey. Brandon also gives advice and words of encouragement to those walking a similar path. His story is one of perseverance and inspiration. We are so grateful for Brandon's voice and his mental health advocacy work. We feel honoured that he trusted us with his story. Brandon's story is not over yet. 
This is bipolar...
If you enjoyed this episode or if this podcast means something to you would you consider pressing the follow or subscribe button. If you really loved it feel free to buy me a coffee. I am forever grateful that I get to do this work.

About Brandon:
B. Russ (he/him/his) is a rapper and content creator with bipolar 2. Diagnosed in 2017, he's spent the last few years using social media as a tool to normalize conversations around mental illness. Located in Atlanta, Georgia, he's currently working on new music that will speak to his struggles with bipolar and addiction. You can connect with B. Russ @therealbruss on Instagram.
IG @this.is.bipolar
TIkTok @this.is.bipolar
#thisisbipolar #bipolar #bipolardisorder #bipolarawareness #mentalillness #mentalhealth #mentalhealthawareness